Coco peat 5Kg block is one of the well-known natural organic productions the world of coco peat.
Dried & Meshed Coco peat is compressed in block which weighs 5kg is generally the coco peat 5kg.
Coco peat 5kg can be made in different mesh size & formulas as per the customer's requirements,
mixing & compressing (5:1) with coco chips or fibre as an example.

After adding water to the coco peat 5kg, the block breaks up smoothly & generally has a very
high water retention capacity.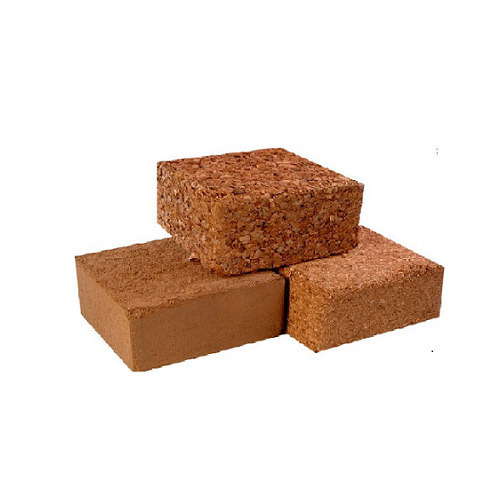 Coco peat 5kg is a natural spongy organic growing media which is especially ideal for, Green house& Plant Nurseries, landscaping and horticulture application in preparing growing media and as well as a soil conditioner. As well as we use various size of dry coco husk chips also. As examples, 3-6mm/6-12mm/12-18mm/<12mm/<15mm and so on. In additionally these raw materials can be used for animal bedding, flower varieties and for potting mixes.
Coco peat 5kg can be supplied palletized or bulk which can be packaged inside PP bag or naked.
Coco peat 5kg is a very nature friendly &
profitable product, also popular as one of the most convenient ways of growing.
Material
100% natural coco peat (Particle size and mixing ratio can be change as per the
buyer's requirement.
Block Size
30x30x12cm (+/-2cm)
Compressed
5:1
Weight
5Kgs (+/-.01kg)
Moisture
Below 22%
EC
Less than 0.5 or more than 0.5 (1:5 Test Method)
pH
5.5-6.8
Mess
6mm/12mm
After Expansion
Volume
70 – 75 litters per block (It is subject to change with raw material)
Note
All specification can be change with buyer's preferences.


Advantages of Coco peat 5 Kg
potting mixes
Excellent Air Porosity
Excellent Water Retention
Irrigation Efficiency
Faster Germination Times & Quicker Seedling Rotations
Degrades Slower Than Other Peats
Packaging & Delivery
Packaging Details:

5 KG – 20 pallets / 4400 pcs per 40 ft HC container.
(Minimum 20 tons per 40ft HC)
The coco husk chips blocks are arranged on the pallets. Total of 220 blocks are arranged on the pallet and then the blocks are strapped and then covered by shrink flim. Edge protection boards are given during packing. We are supplying the Coco Husk chips exclusive used as a potting medium in many indoor foliage tropical plant growing, growing Cymbidium, Cattleya, Phalaenopsis, Orchids etc. Coconut Husk (shell) are chopped or cut into size of 1 cm to 3 cm sizes of tolerance +/- 10%. It contains high quality Peat with Fibers to absorb more water. It is used as Mulching Agent. It's Substitute for wood barks etc.
Benefits of Husk chips:
Excellent drainage, high caption exchange capacity (CEC)
Neutral pH and innate buffering capacity
Resists fungal growth
Cuts down fertilizer application up to 30%
Lasts longer than bark with no degradation
100% natural and renewable resource
Wet coconut husk chips hold water and air like a sponge
Very clean, uniform and zero wastage
Prevents stress after re-potting